The Netherlands
About the Journal  |  Contact Information  |  Editorial Board  |  Current/Past Issues  |  Subscriptions  |  Author Guidelines  |  Recent News
About the Journal
Published four times a year, the International Journal of Comparative Labour Law and Industrial Relations has become established as the major English language publication in its field.
The Journal publishes original articles in the domains of labour law and industrial relations – interpreted broadly and dynamically – and aims to deal with countries from all over the world. Articles cover comparative and international (or regional) analysis of topical issues, major developments and innovative practices, as well as discussions of theoretical and methodological approaches. The Journal adopts a double-blind peer review process. A distinguished editorial team, with the support of an International Advisory Board of eminent scholars from around the world, ensures a continuing high standard of scientific research dealing with a range of important issues.
As a result, the Journal is an essential source of information and analysis for labour lawyers, judges, policymakers, personnel specialists, international law firms, trade unions, multinational organisations, academics and libraries.
For more information about the International Journal of Comparative Labour Law and Industrial Relations please visit the journal web page at IJCL.
ISSN: 0952-617x
Frequency: Quarterly
Language: English
First Year of Publication: 1985
Contact Information
Editor-in-Chief:
Professor A.C.L. Davies (MA, D.Phil. (Oxon))
Professor of Law and Public Policy
University of Oxford
Contact details for this journal: ijcllir@gmail.com
Publisher:
Kluwer Law International
PO BOX 85889, 2509 CN
The Hague, The NetherlandsTel: + 31703081519
Fax: +31703081515
Website: http://www.wolterskluwerlr.com
Editorial Board
| | |
| --- | --- |
| Editor-in-Chief: | Articles Editor: |
| | |
Managing Editors:
Scientific Directors:

William Bromwich

Olga Rymkevich

Alan Neal (Founding Editor)

Tiziano Treu

Manfred Weiss
International Advisory Board:

Takashi Araki

Harry Arthurs

Catherine Barnard

Janice Bellace

Roger Blanpain

Colin Fenwick

Judy Fudge

Tadashi Hanami

Claire Kilpatrick

Mariella Magnani

Marie-France Mialon

Marius Olivier

Jacques Rojot

Mia Rönnmar

Nicola Smit

Marlene Schmidt

Michal Seweryñski

Yasuo Suwa

Nick Wailes

Helio Zylberstajn
Current/Past Issues
Abstracts and PDFs of all issues can be found here.
Subscriptions
Please click here or contact our sales department to place an order or to obtain further information.
Author Guidelines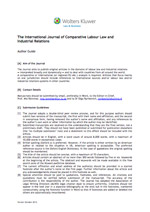 Please click here to view the Author Guidelines for this journal.